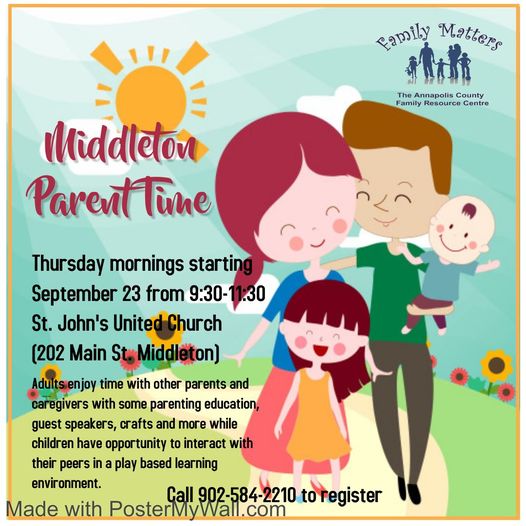 Time: Thursdays 9:30-11:30am at the St John's United Church, 202 Main Street, Middleton.
Parent Time is a weekly educational support program for parents and caregivers, providing opportunity to learn new parenting skills, share information and access resources.
The Curious Kids program is provided for children aged 18 months to school age. Children under 18 months can remain in Parent Time with their parent/caregiver.
The Parent Time and Curious Kids playgroup is offered weekly in Middleton on Thursdays (term time only). Pre Registration is required due to Covid 19 restrictions. Please call Family Matters 902 584 2210 or 1 800 399 7119 to reserve your space.
From time to time, Parent Time and Curious Kids may join together for Parent/Child Interactive Fun- Remember YOU are your child's first and best teacher and the more you interact with your child the more they will learn!
Please Note: If School's in Annapolis County are cancelled, Family Matters Programs are as well