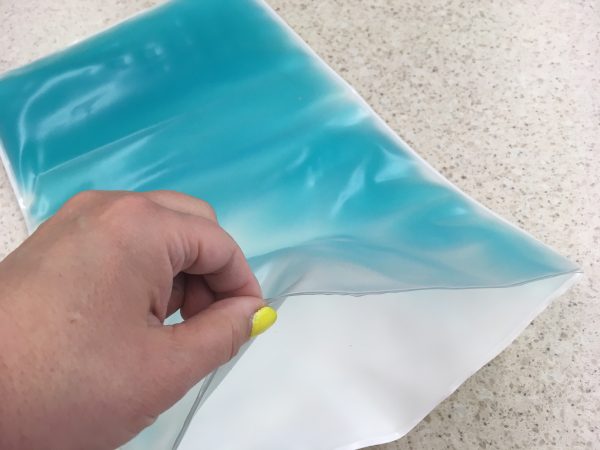 Sensory Equipment – SkilCare Gel-Foam picture frame pocket
(click or hover over photo to view larger image)
Description
SkilCare Gel-Foam Picture Frame
It provides stimulation and fun to pictures when they are viewed from this gel-filled picture frame. This multi-modal gel/foam picture frame address sight and touch and is effective in reducing anxiety, boredom and also serve as a tool in training for eye-hand coordination. It also improves finger strength and dexterity.
Features
SkilCare Gel-Foam Picture Frame is a heat sealed vinyl frame with a gel pocket in the front and a back pocket that allows one to insert any graphic that challenges or attracts the interest of the user
Can be used as a learning tool or as a place to house familiar pictures
Easy Care
More Information
Use Instructions: – Have the person or instructor prepare a visual array of figures, numbers or letters on a stiff piece of paper or cardboard that fits into the pocket. To enhance the visual and touch experience, insert the prepared art into the open pocket with the artwork facing the gel. Have the person identify objects or trace the object/alphanumeric through the gel. This is a very useful exercise especially for pre-handwriting activities and for cognitive association activities.
Care Instructions: – The vinyl Gel Foam Picture Frames are heat sealed and can be cleaned with a mild, non-chlorinated detergent and must be disinfected with a mild, non-chloride containing the disinfectant. Although the gel is non-toxic, medical care should be consulted if the gel is ingested. If a tear or rip is observed in the gel the unit should be discarded. These products must always be used under the direct supervision of a caregiver.
If you would like to borrow this or need more information don't hesitate to either phone our main office in Lawrencetown at (902) 584 2210 to reserve it or fill out our form here
https://forms.gle/JCM3rjmBqtkXBzwQ6
and we'll get it ready for you to collect.